Alpha 7 Digital E-Mount Full Frame Camera with SEL 2870 Lens
Details
https://store.sony.co.nz/archived-interchangeablelenscamera/ILCE7KB.html
Product Actions
This item is currently unavailable
Update available
ILCE-7 System Software (Firmware)
Version 3.20. 26-07-2016
Image Gallery
Learn and be inspired while exploring our Image Gallery. Images are captured on Sony cameras and lenses.
Features
Digital E-mount 24.3 Mega Pixel Camera with SEL 2870 Lens
24.3MP Full Frame Exmor CMOS sensor
Enhanced Fast Hybrid Autofocus system
BIONZ X image processing engine
Key Features
Supported in Capture One Express (for Sony)
Capture One Express (for Sony) is one of the world's best RAW converters, rendering precise colors and incredible detail. It contains flexible digital asset management, all the essential adjustment tools and fast, responsive performance in one customizable and integrated solution. * Please direct all inquiries on purchase, usage and support on Capture One solutions to Phase One.
XGA OLED Tru-Finder
This viewfinder features high 1024x768 resolution, OLED improvements and the same 3-lens optical system used in the flagship a99 despite the compact body. The viewfinder displays the effects of your camera settings, so you can accurately monitor the results. You'll enjoy rich tonal gradations and three times the contrast of the a99. High-end features like 100% frame coverage, wide viewing angle, information display modes, peaking function, and focus magnifier are also provided.
Anti-dust system and coating
To keep your photos blemish free, an anti-dust mechanism vibrates ultrasonically whenever you switch off the camera to remove any particles adhering to the image sensor. An anti-static coating also helps prevent dust and other particles from adhering to the sensor when changing lenses.
Full-frame filmmaking
The unique combination of 35mm full-frame sensor, audio production features and flexible lens interchangeability means a new level of portable moviemaking. The new accelerated BIONZ X image-processing engine also enables area-specific noise reduction and detail reproduction technology to be applied to movies for the very first time, resulting in ultra-fine detail and exceptionally low noise. Features like Picture Effect, full HDMI output for an external monitor, P/A/S/M modes, and full 1080p AVCHD Progressive format, and the choice of 60p/24p recording further expand the options.
Audio recording & monitoring
During movie recording and playback, you can monitor the sound using headphones connected to the a7 via the headphone jack, check levels with the display controls, or attach professional sound gear using the industry-standard XLR terminal adaptor kit.
Enhanced Fast Hybrid Autofocus
Numerous features contribute to the a7's autofocus capabilities: the new lightning-fast BIONZ X, high-speed full-frame image sensor output, and a newly developed Spatial Object Detection AF algorithm that conducts focusing analysis in real-time using spatial frequency information to optimally control the lens drive.
New Eye Autofocus
Even when capturing a subject partially turned away from the camera with a shallow depth of field, the face will be sharply focused thanks to extremely accurate eye detection that can prioritize a single pupil. A green frame appears over the prioritized eye when focus has been achieved for easy confirmation. Eye AF can be used when the function is assigned to a customizable button, allowing users to instantly activate it depending on the scene.
Lock-on Autofocus and area setting options
Lock-on AF adjusts the target frame size based on subject characteristics and makes use of a wide AF area to ensure usage of the optimal AF point for smooth, stable autofocusing. Just press the shutter button halfway to activate it. New BIONZ X ensures swifter subject tracking and detection performance than ever before. When using the Flexible Spot AF area setting, you can select a small, medium-sized or large AF area to match the size of your subject and help ensure the camera focuses on the intended area. Wide and Zone focus area settings are also available.
New AF area setting options
When using the Flexible Spot AF area setting, you can select a small, medium-sized or large AF area to match the size of your subject and help ensure the camera focuses on the intended area. Wide and Zone focus area settings are also available.
Full HD 60p video
Create movies of amazing clarity that play extra smoothly by recording them at Full HD resolution (1920 x 1080 pixels) in the AVCHD Ver. 2.0 (Progressive) format - at the extremely high frame rate of 60 fps. The a7 also supports 24p movie recording, which gives your movies a subtle look that movie lovers everywhere associate with the cinema.
Specifications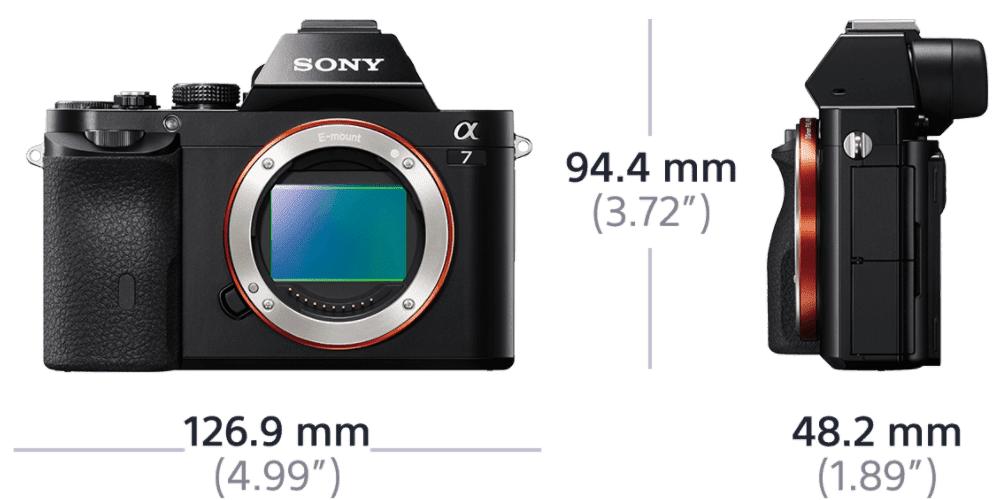 Lens Compatibility
Lens Compatibility

Sony E-mount lenses

Lens Mount

E-mount
ISO Sensitivity
ISO Sensitivity

ISO 50-25600
Sensor
Sensor

35 mm full frame (35.8 x 23.9mm) Exmor CMOS sensor

Image Sensor Aspect Ratio

3:2
Number Of Pixels (Effective)
Number Of Pixels (Effective)

24.3 MP

Number of Pixels (total)

Approx. 24.7 megapixels
Shutter
Shutter Speed

Still images:1/8000 to 30 sec, Bulb\n Movies: 1/8000 to 1/4(1/3 steps)\n up to 1/60 in AUTO mode (up to 1/30 in Auto slow shutter mode)
LCD Screen
Total Number of Dots

921,600 dots

Real-time Image Adjustment Display (LCD)

On/Off

Quick Navi

Yes

Peaking MF

Yes (Level setting: High/Mid/Low/Off, colour: White/Red/Yellow)

LCD Display

Graphic Display\nDisplay All Info\nNo Disp. Info\n Level\nHistgram\nFor viewfinder

Focus Magnifier

Yes Focus Magnifier (35mm full frame: 5.9x, 11.7x \nAPS-C: 3.8x, 7.7x)

Brightness Control (LCD)

Manual (5 steps between -2 and +2), Sunny Weather mode

Adjustable Angle

Up by approx. 90 degrees, Down by approx. 45 degrees

Screen Type

3.0\ type TFT LCD
Audio
Speaker

Built-in, monaural

Microphone

Built-in stereo microphones or ECM-CG50/ XLR-K1M (sold separately)
Compatible OS
Compatible OS

Windows Vista SP2, Windows 7 SP1, Windows 8, Mac OS X (v10.5-v10.8)
Exposure
Scene Selection

Portrait\nLandscape\nMacro\nSports action\nSunset\nNight portrait\nNight scene\nHand-held Twilight\nAnti Motion Blur

Metering Type

1200-zone evaluative metering

Metering Sensor

Exmor\ CMOS sensor\

Metering Sensitivity

EV0 to EV20 (at ISO100 equivalent with F2.8 lens attached)

Metering Mode

Multi-segment\nCenter-weighted\nSpot

Exposure Modes

iAUTO\nSuperior Auto\nProgrammed AE (P)\nAperture priority (A)\nShutter-speed priority (S)\nManual (M)\nSweep Panorama\nScene Selection\nMovie (Programmed AE (P) / Aperture priority (A) / Shutter-speed priority (S) / Manual (M) )

Exposure Compensation

+/- 5.0EV(1/3 EV, 1/2 EV steps selectable)\n(with exposure compensation dial : +/- 3EV (1/3 EV steps))

Auto (AE) Bracketing

Bracket: Cont./Bracket: Single, With 1/3 EV, 1/2 EV, 2/3 EV, 1.0 EV, 2.0 EV, 3.0 EV increments, 3/5 frames (2.0 EV, 3.0 EV : only 3 frames) selectable

AE Lock

Locked when shutter button is pressed halfway. Can be disabled from the Menu. Available with AE lock button.
Focus
Other Features

Lock-on AF, Eye Focus, Predictive control, Focus lock, Eye-Start AF (only with LA-EA2 or LA-EA4 attached(Sold separately))

Focus Type

Fast Hybrid AF(phase-detection AF/contrast-detection AF)

Focus Sensor

Exmor\ CMOS sensor\

Focus Sensitivity Range

EV0 to EV20 (ISO100 equivalent with F2.8 lens attached)

Focus Point

35mm full frame: 117 points (phase-detection AF) \nAPS-C: 99 points (phase-detection AF) \n/ 25 points (conotrast-detection AF)

Focus Area

Multi Point (117 points (phase-detection AF), 25 points(contrast-detection AF)) / Zone / Center-weighted / Flexible Spot (S/M/L)

AF Mode

AF-S (Single-shot AF), AF-C ( Continuous AF), DMF (Direct Manual Focus), Manual Focus

AF Illuminator range

Approx. 0.3m - approx. 3.0m (with FE 28-70mm F3.5-5.6 OSS attached)

AF Illuminator

-
Noise Reduction
Noise Reduction

Long exposure NR: On/Off , available at shutter speeds longer than 1 sec.

Multi Frame NR

Auto/ISO 100 to 51200
White balance
White Balance Modes

Auto\nDaylight\nShade\nCloudy\nIncandescent\nFluorescent : Warm White / Cool White / Day White / Daylight\nFlash\nColor Temperature 2500 to 9900K & color filter G7 to M7(15-step), A7 to B7(15-step)\nCustom\nUnderwater

Bracketing

3 frames, H/L selectable

AWB Micro Adjustment

G7 to M7, 15-step / A7 to B7, 15-step
Battery Life (CIPA, Still Images)
Battery Life (CIPA, Still Images)

Up to 340 shots
Power
Supplied Battery

NP-FW50 W-series Rechargeable Battery Pack

Internal Battery Charge

Yes

External Power

AC Adaptor AC-PW20 (sold separately)

Battery Life (CIPA, Movies)

Actual Recording:Approx. 60 minutes (Viewfinder), Approx 65 minutes (LCD screen) (CIPA standard)\n Continuous Recording:Approx. 100 minutes (Viewfinder), Approx 100 minutes (LCD screen) (CIPA standard)
Print
Compatible Standards

Exif Print, Print Image Matching III, DPOF setting
Recording (movie)
Video Compression

AVCHD: MPEG-4 AVC/H.264\n\nMP4: MPEG-4 AVC/H.264

Recording Format (Movie)

AVCHD 2.0 / MP4

Movie Functions

Audio Level Display,Audio Rec Level,Auto Slow Shutter,HDMI Info. Display

Image Size (pixels), PAL

AVCHD:1920 x 1080 (60p, 28M, PS)\n1920 x 1080 (60i, 24M, FX)\n1920 x 1080 (60i, 17M, FH)\n1920 x 1080(24p, 24M, FX)\n1920 x 1080(24p, 17M, FH)\n AVC MP4: 1440 x 1080(30fps)\n VGA(640 x 480, 30fps)\nMPEG 4: 720 Fine (1280 x 720, 30fps)\n720 STD (1280 x 720, 30fps)\nVGA(640 x 480, 30fps)

Audio Recording Format

AVCHD: Dolby Digital (AC-3) 2ch\n\nMP4: MPEG-4 AAC-LC 2ch
Recording (still images)
Recording Format

JPEG (DCF Ver. 2.0\n Exif Ver.2.3\n MPF Baseline compliant)\n RAW (Sony ARW 2.3 format)

Picture Effect

13 types: Posterization (Color)\n Posterization (B/W)\n Pop Color\n Retro Photo\n Partial Color (R/G/B/Y)\n High Contrast Monochrome\n Toy Camera(Normal/Cool/Warm/Green/Magenta)\n Soft High-key \n Soft Focus(High/Mid/Low)\n HDR Painting(High/Mid/Low)\n Rich-tone Monochrome\n Miniature(Auto/Top/Middle(H)/Bottom/Right/Middle(V)/Left)\n Watercolor\n Illustration(High/Mid/ Low)

Image Size (pixels), 3:2

35mm full frame L: 6000 x 4000 (24M)\n M: 3936 x 2624 (10M)\n S: 3008 x 2000 (6.0M)\n\nAPS-C L: 3936 x 2624 (10M), M: 3008 x 2000 (6.0M), S: 1968 x 1312 (2.6M)

Image Size (pixels), 16:9

35mm full frame L: 6000 x 3376 (20M), M: 3936 x 2216 (8.7M), S: 3008 x 1688 (5.1M)\n\nAPS-C L: 3936 x 2216 (8.7M), M: 3008 x 1688 (5.1M), S: 1968 x 1112 (2.2M)

Dynamic Range Functions

Off, Dynamic Range Optimizer (Auto/Level (1-5)), Auto High Dynamic Range (Auto Exposure Difference, Exposure Difference Level (1-6 EV, 1.0 EV step))

Creative Style

Standard\n Vivid\n Neutral\n Clear\n Deep\n Light\n Portrait\n Landscape\n Sunset\n Night Scene\n Autumn leaves\n Black & White\n Sepia\nStyle Box(1-6)\n \n (Contrast (-3 to +3 steps)\n Saturation (-3 to +3 steps)\n Sharpness (-3 to +3 steps))
Other Features
Touch Shutter

YES

Smile Shutter

Smile shutter (selectable from 3 steps)

Smart zoom (Still Image)

35mm full frame: M:approx 1.5x, S:approx 2x\n\nAPS-C: M:approx 1.3x, S:approx 2x

Self-Portrait

Yes (3 sec delay/OFF selectable)

PlayMemories Camera Apps™

YES

Lens Compensation

Peripheral Shading, Chromatic Aberration, Distortion

Image Processor

BIONZ X

Face Detection

On/On (Regist. Faces)\nOff\nFace registration\nFace selection (Max. number of detectable faces: 8)

Digital zoom (Still Image)

35mm full frame: L:approx 4x, M:approx 6.1x, S:approx 8x;\nAPS-C: L:approx 4x, M:approx 5.2x, S:approx 8x

Digital zoom (Movie)

35mm full frame: approx 4x \nAPS-C: approx 4x

Clear Image Zoom

Approx. 2x

Auto Object Framing

Still images
Storage Media
Compatible Recording Media

Memory Stick PRO Duo\nMemory Stick PRO-HG Duo\nMemory Stick XC-HG Duo\nSD memory card\nSDHC memory card\nSDXC memory card
Viewfinder
Viewfinder Display

Graphic Display,Display All Info, No Disp. Info, Digital Level Gauge, Histogram

Real-time Image Adjustment Display

On/Off

Number of Dots

2 359 296 dots

Magnification

approx. 0.71 x (with 50mm lens at infinity, -1m<sup>-1</sup>) diopter

Field Coverage

100%

Eye Point

Approx. 27mm from the eyepiece lens, 22mm from the eyepiece frame at -1m<sup>-1</sup>diopter (CIPA standard)

Dioptre Adjustment

-4.0 to +3.0m<sup>-1</sup>diopter

Color Temperature Control

Manual (5 steps)

Brightness Control (Viewfinder)

Auto/Manual (5 steps between -2 and +2)

Viewfinder Type

0.5\-type electronic viewfinder (color)
WiFi®
Wireless and Network Capabilities

Wi-FiNFC One-touch functionalityDownloadable Camera Apps

View on TV

Yes

View on Smartphone

Yes

Upload to PC

Yes
Size and Weight
Carton Width (cm)

19.50

Carton Height (cm)

28.50

Carton Weight (kg)

4.00
ACCESSORIES
RECOMMENDED CAMERA FLASH
RECOMMENDED MICROPHONES
RECOMMENDED REMOTE
RECOMMENDED LENS MOUNT ADAPTER
RECOMMENDED SCREEN ACCESSORIES
RECOMMENDED CASES
RECOMMENDED BATTERY / CHARGER
RECOMMENDED GRIP
FILTER
RECOMMENDED G & G MASTER LENSES
RECOMMENDED CABLES
RECOMMENDED PRIME / FIXED FOCUS LENSES
RECOMMENDED ZOOM LENSES
MACRO LENS
RECOMMENDED FULL FRAME LENSES
This product is searchable
Search for this product by using any of the following codes or IDs

ILCE7KB
4905524958652
WW328262
ILCE-7K/BQ AP2