E-mount & A-mount Lenses
A lens for every idea and situation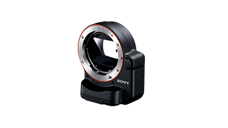 Accessories
View Products
Stretch your creativity with ultra-wide or fisheye converters, and adaptors for our lenses.
α Interchangeable-Lens Cameras
Best in class cameras with superior capabilities
A6000 Series
View Products
Outstanding picture quality with APS-C size image sensors and cutting-edge technology.
A7 Series
View Products
Flagship models with 35-mm full-frame imaging sensors and Sony's latest technical advances.

Accessories
View Products
Interchangeable Lense Camera Accessories