7.2 Channel Home Theater AV Receiver
Details
https://store.sony.co.nz/receiver/STRDN1080.html
Product Actions
Versatile. Sophisticated. Powerful.
Featuring flexible speaker solutions, DTS:X, and Dolby Atmos® support, the STR-DN1080 delivers mighty, cinematic surround sound that perfectly adapts to you, and your environment.
Features
Upgrade your home entertainment system with the STR-DN1080, featuring Dolby ATMOS and DTS: X support. Flexible and phantom speaker solutions allow you to tailor your ideal audio setup. 4K and HDR-compatible HDMI support the latest video standards, including HDCP 2.2 content protection for 4K content.
165W per channel power output
Dolby Atmos and DTS: X compatible
4K Ultra HD and HDR compatible
Review
7.2 Channel Home Theater AV Receiver
"(This) receiver performed sterling duty delivering to loudspeakers the music and sounds... delivering to a TV screen the video provided to its inputs."
Sony STR-DN1080, Sound Image, July 2017
Read the full review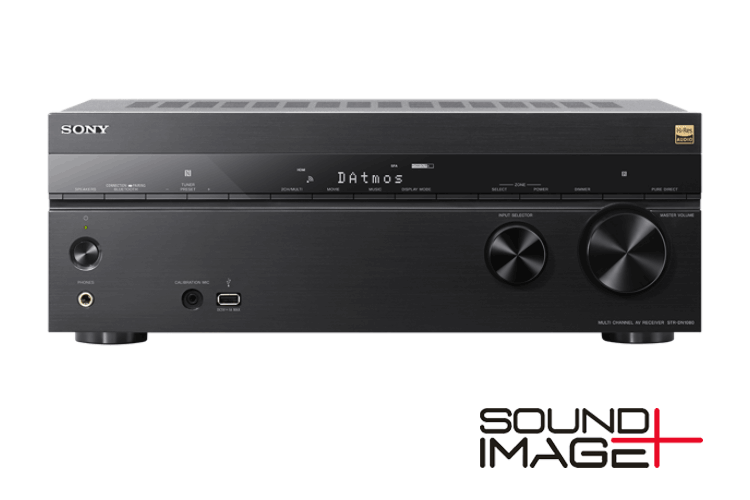 Key Features
Control made easy with a Graphic User Interface
It's easy to navigate your receiver's settings, thanks to an intuitive home menu. Control what you watch, identify which devices are connected, and choose how you want to listen with pre-set sound modes.
Touch, connect, and play
Enjoy simple wireless listening with One-touch NFC. Just touch a compatible smartphone to the receiver for Bluetooth audio.
AirPlay audio
Enjoy music from AirPlay-enabled devices.
The Way The Artists Truly Intended
Enjoy the subtlest nuances of studio-quality sound in higher-than-CD quality with High-Resolution Audio. Passion for music unites every component from signal to speaker, so it feels like the artist is performing right in front of you.
Discover Dolby Atmos
Dolby Atmos delivers breathtaking realism with 360º surround sound, accurately positioning sound within your environment so that the 7.1.2 speaker channels (including Phantom Surround Back) completely envelopes you in sound - even from above.
Discover DTS: X
DTS-X decoding delivers multi-dimensional surround sound that adapts to your speaker configuration in real time. Sounds can be positioned precisely around and above you thanks to 9 speaker channels (including Phantom Surround Back speakers) and object-based audio decoding
Flexible speaker solutions
Sony's flexible speaker solutions 'relocate' sound to simulate the optimal position and angle for the best audio experience, working around any physical space restrictions.
Phantom Surround Back
The Phantom Surround Back speaker setting replicates the immersive sound of physical Surround Back speakers, enabling you to enjoy a 7 channel surround sound experience with only a 5 channel speaker setup.
Virtual surround with S-Force Pro Front Surround
Ideal for smaller rooms, S-Force PRO front surround delivers a virtual surround acoustic field using only 2 speakers. No need to place rear speakers behind you.
Seamless auto calibration
Combining auto calibration technology with virtual speaker relocation, D.C.A.C EX automatically optimises speaker frequencies, phase and delays, to deliver a sound field perfectly suited to your room.
Specifications
Amplifier
Power Output

165W (6ohms, 1kHz, 1ch driven THD 0.9%)

Number of Amp. Channels

7ch
Calibration
Automatic Phase Matching

D.C.A.C. EX\n;Speaker Relocation\n;Phantom Surround Back\n;Automatic Phase Matching\n;Calibration Mic (Stereo)
Custom Installation
IR Repeat (In/Out)

Yes (1 / 1)

2nd Zone Audio

Speaker (Variable) / Line (Variable, Fixed)
Decoding Formats
Decoding Format for HDMI

DSD\n, LCPM, Dolby Atmos\n, Dolby Digital\n, Dolby Dual Mono\n, DTS: X\n, DTS HD MA,\n DTS HD HR\n, DTS\n, DTS-ES (Matrix6.1 / Discrete6.1), DTS 96 / 24
General Features
GUI (Graphical User Interface)

YES (Only through HDMI)
HDMI
HDMI supporting HDCP 2.2 In/Out

6 / 2

HDMI Zone

Yes
Hi Resolution Audio
Hi-Res Format

DSDIFF (DSD): Up to 5.6MHz 5.1ch\n, DSF: Up to 5.6MHz 5.1ch\n, WAV(LCPM): Up to 192kHz/24 bit 7.1ch,AIFF(LCPM): Up to 192kHz/24 bit 5.1ch, FLAC: Up to 192kHz / 24 bit 5.1ch\n, ALAC: Up to 192kHz / 24 bit 5.1ch
Interface
Input and Output Terminals

Audio Input Opt (1) \n;Audio Input Coax (1) \n;Analog Audio Input (4) \n;Pre Out Subwoofer (2) \n;Composite Monitor Out (1) \n;Headphone Output (1) \n;USB (1 Front) \n;Ethernet Port (1)
Networking
Network features

Bluetooth Receiver\n, Bluetooth Transmitter\n, NFC\n, Wi-Fi\n, Airplay\n, Mobile Control Application, Wireless Multi Room

Networked Standby Mode Activated – Terminals

After 19 minutes (Bluetooth)
Channels
Number of Decodable Channels

7ch + Phantom 2ch
Other
Other Format

[MP3].MP3, [AAC / HE-AAC].m4a, .AAC, [WMA9 Standard].WMA
Power
Power Consumption (Off Mode)

not available

Power Requirement

230V 50 / 60Hz

Power Consumption (Networked Standby Mode) – Terminals

1.5W(Bluetooth) / 1.5W(all terminals and networks connected)

Power Consumption (Standby Mode)

0,4W
Dimensions
Dimensions (W x H x D)

430 x 156 x 331

Weight

9.7
Sound
Sound Enhancement Technologies

DSD Native Playback\n, DSEE HX\n, Pure Direct\n, Sound Optimizer\n, Center Speaker Lift Up\n, Digital Legato Linear, In-Ceiling Speaker Mode

Sound Field

2ch Stereo\n, Direct\n, Multi Ch Stereo\n, Dolby Surround\n, Neural: X\n, Front Surround\n, Audio Enhancer\n, Headphone 2ch
Speakers
Speaker Output Terminals

Front A\n, Center\n, Surround\n, Surround Back\n, Zone2 (Common with Surround Back)\n, Height (Common with Surround Back),Front B (Common with Surround Back)\n, Bi-AMP (Common with Surround Back)
Standby
Standby Mode Activated

After 19 minutes
Tuner
Preset Channel (Sirius/XM/FM/AM)

TTL30 (30 / -)

FM/AM

Yes / -

RDS

Yes
Video Features
3D over HDMI

Yes

Audio Return Channel

Yes

HDR (High Dynamic Range)

Yes

BRAVIA® SYNC™ (CEC Control)

Yes (One-Touch Play, System Audio Control, System Power Off)

HDMI® Pass Through

Yes

4K 60p 4:4:4 Support

Yes (except VIDEO1 input)
Wireless Networking
Wireless Network(s) On/Off Switch

Change the bluetooth setting in \MENU\(Setup -> Bluetooth Settings -> Bluetooth Mode -> OFF).
This product is searchable
Search for this product by using any of the following codes or IDs

STRDN1080
4548736043145
STR-DN1080
STR-DN1080/MAU1