Premium 4K Ultra HD Blu-ray Player
Sony Online Update: Sony is committed to slowing the spread. Sony Online has paused ordering until further notice.
Details
https://store.sony.co.nz/player-bluray-ultraHD/UBPX700.html
Product Actions
Bring movies to life in 4K HDR
Get the best seat in the house with this 4K Ultra HD Blu-ray™ Player. Advanced surround sound, 4K detail, and vibrant High Dynamic Range images offer a visual experience never before possible, for the ultimate immersion.
Features
Get the best seat in the house with this 4K Ultra HD Blu-ray Player.Advanced surround sound, 4K detail, and vibrant High Dynamic Range images offer a visual experience never before possible.
Play 4K Ultra HD Blu-ray discs
Enjoy music from any source
Wide coverage for video and music streaming services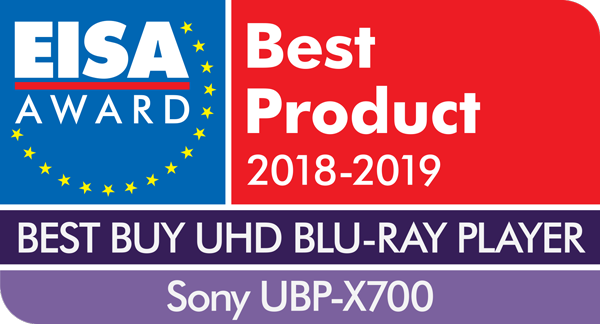 EISA Best Buy UHD Blu-ray Player 2018-2019
The UBP-X700 delivers everything you need to enter the new UHD HDR world without leaving the past behind, playing also DVDs, Blu-ray and even SACD. It offers a major bonus with its wireless networking abilities, able to access online video and audio services including Netflix and YouTube, plus high-res DLNA playback... The UBP-X700's keen pricing makes it a high-value overachiever.
European Imaging and Sound Association (EISA)
Read Review

Sony delivers a stunningly natural 4K picture for an affordable price - it's sure to be a crowd-pleaser
What Hi-Fi? Awards 2018 winner.
What Hi-Fi? October, 2018
Read Review
Key Features
Stream movies and TV in 4K
Enjoy fast, stable streaming from a variety of services. The UBP-X700 offers up to 4K video streaming thanks to Wi-Fi with MIMO technology.
The smarter way to take control
Use your tablet on a smartphone (Android or iOS) to control your Blu-ray Disc player, and learn more about what you're watching with the Video & TV Sideview app.
Bring your equipment together
Connect your AV technology to the UBP-X700 with ethernet, HDMI and Coaxial SPDIF.
DOLBY VISION
Bring scenes to life with striking highlights, deeper darks and vibrant colours. Dolby Vision is an HDR solution that creates an immersive, engaging cinematic experience in your home.
Designed to be heard together
Enhance your entertainment. The UBP-X700 pairs with the sound bar for an immersive surround sound experience.
All the colours in nature
Support for the new BT.2020 colour spaces means access to a much wider range of colours than conventional TV signals offer. This ultra-wide colour space means content creators can deliver much more saturated and realistic colour from deep aquatic blues to natural greens and vibrant reds.
Digital music compatible
The UBP-X700 supports a range of music formats, from AAC and PCM audio to 11.2MHz DSD.
Stream, watch and play
Play movies via USB or over your home network. The UBP-X700 supports the most popular video file types so you can watch your favourite films and home movies.
Seamless operation
With an intuitive menu and interface, apps and features are organized simply and intelligently, so you can always find what you're looking for.
A richer picture on any screen
Watch 4K HDR films, even on non-HDR TVs, and enjoy additional shadow and highlight detail. Our HDR-SDR conversion intelligently scales HDR's ultra-wide brightness range into an SDR image, maintaining outstanding picture quality even with conventional SDR TVs.
Play anything
The UBP-X700's playing power goes far beyond 4K UHD Blu-ray discs. You can watch, listen to, and stream almost anything you like - including most high-definition video and audio formats, and a host of popular streaming services.
Ultimate disc drive
Play all your CD, DVD and Blu-ray collections conveniently with one universal player.
Get more from your movies with 4K Ultra HD
Experience movies with four times the resolution of conventional Blu-ray (Full HD), with new 4K Ultra HD Blu-ray discs and 4K streaming services.
HDR10
An HDR10 signal contains up to 100x the brightness of a standard (SDR) signal, massively increasing peak brightness while retaining deep and highly-detailed blacks, for an entirely new viewing experience.
Specifications
Playback Capability
Disc

Ultra HD Blu-rayBD-ROMStereoscopic 3D (profile 5)SA-CD (SA-CD / CD) PlaybackDVD-VideoDVD-RDVD-RWDVD-R Dual LayerDVD+RDVD+RWDVD+R Double LayerCD (CD-DA)CD-R / -RWBD-REBD-RE Dual LayerDVD-Video

Photo format

JPEG (.jpg, .jpeg)GIF (.gif)PNG (.png)MPO MPF 3D (.mpo)BMP (.bmp)WEBP(.webp)

Picture Feature

4K Upscale (60p)Deep colour (12bit)24p True Cinema
Functions
Certified Hi-Res Audio

No

Disc

Ultra HD Blu-rayBD-ROMStereoscopic 3D (profile 5)SA-CD (SA-CD / CD) PlaybackDVD-VideoDVD-RDVD-RWDVD-R Dual LayerDVD+RDVD+RWDVD+R Double LayerCD (CD-DA)CD-R / -RWBD-REBD-RE Dual LayerDVD-Video

Picture Feature

4K Upscale (60p)Deep colour (12bit)24p True Cinema
Network
Wi-Fi® Built in

Yes

Bluetooth

No

Wi-Fi MIMO

Yes

Streaming

4K streaming3D StreamingLive Streaming
This product is searchable
Search for this product by using any of the following codes or IDs


UBPX700
4548736064393
UBP-X700
UBP-X700/BM AU2