ZV-E10 | Interchangeable Lens Vlog Camera (Black)
Details
https://store.sony.co.nz/interchangeablelenscamera-zv/ZVE10B.html
Product Actions
Request a price match*
Request a Price Match
Request a price match, and if successful we'll respond soon.*


Make sure to create a Sony account and leave a phone number.
What can I request for a price match?
Your request may be eligible for price matching if it is:

An identical model
The product must be a matching brand, model number and colour to be eligible.

Available to purchase
We may match selected local retailers (including their online prices) once verified and item must in stock or pre-order online or in store.

Not shown on our exclusions list
Exclusions apply including, but not limited to, competitor's service prices, special or hourly sales, bonus buy offers.
See our full list of exclusions

A local retailer
The retailer must have a local business number (ABN/ACN or NZBN) and be registered for Goods and Services Tax ("GST").

Request a Price Match online or in-store
After reviewing the above criteria, follow the simple steps below:
Find a Qualifying Product
While online, find a qualifying product from a local retailer's website that would like to request a price match from. Make sure the product is identical to our product (model number and colour). The price must be current on the day of request and available to purchase at that price. The retailer must have a local business number (ABN or NZBN) and be registered for Goods and Services Tax ("GST").
Fill out the form to request a Price Match
On selected pages, fill out the form and submit your request. Note, some models are excluded. Please be prepared to direct our support staff to the ad or website that is displaying the current lower price you would like to match.
Should your price match request be successful, we will contact you and update your shopping cart. Make sure to create/sign into your account and add the product to cart to make this quicker.
Find a Qualifying Product
Find a qualifying product that you want Sony to price match from a local retailer. Make sure the product is identical to our product (model number and colour). The price must be current on the day of request and available to purchase at that price. The retailer must have a local business number (ABN or NZBN) and be registered for Goods and Services Tax ("GST").
Price Match In Store
Take your catalogue, flyer, or printed email into one of our Sony Stores to request a price match.
Price Match Details & Exclusions
If you have any questions, contact us here or simply submit a price match a request.
Product Gallery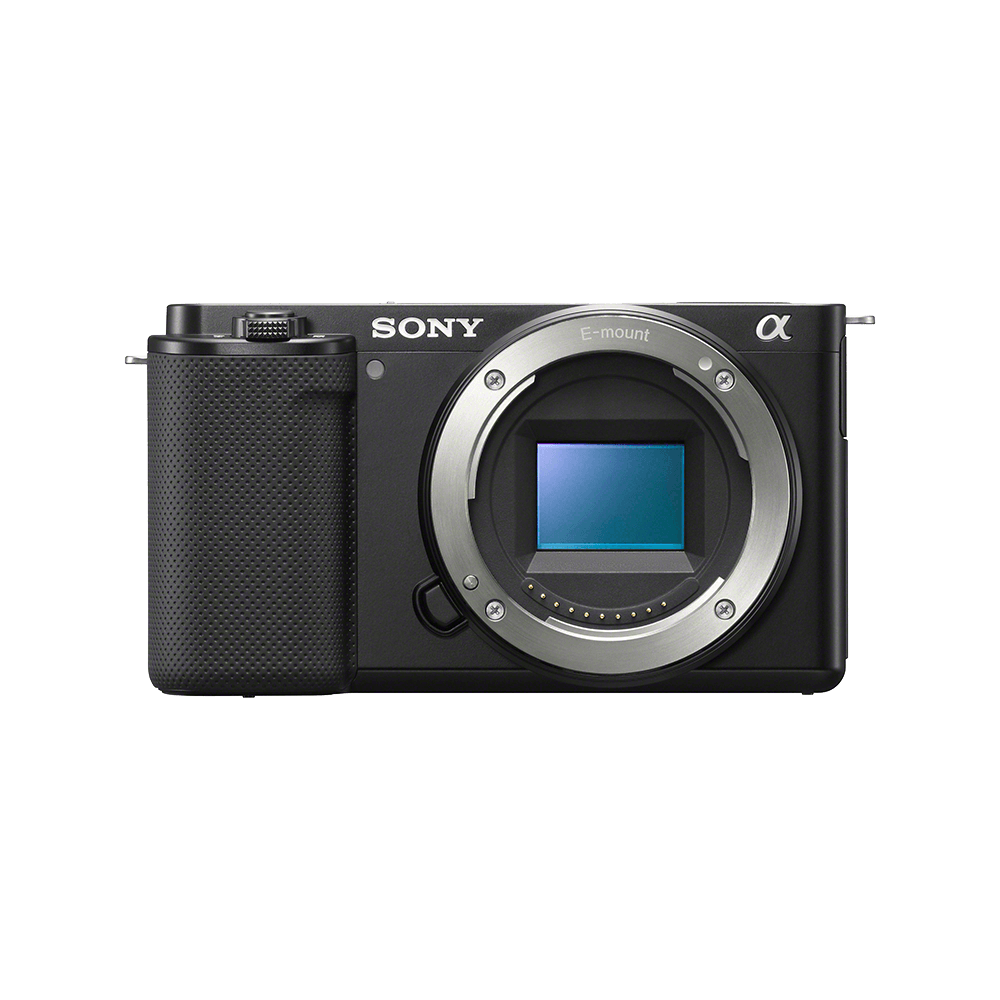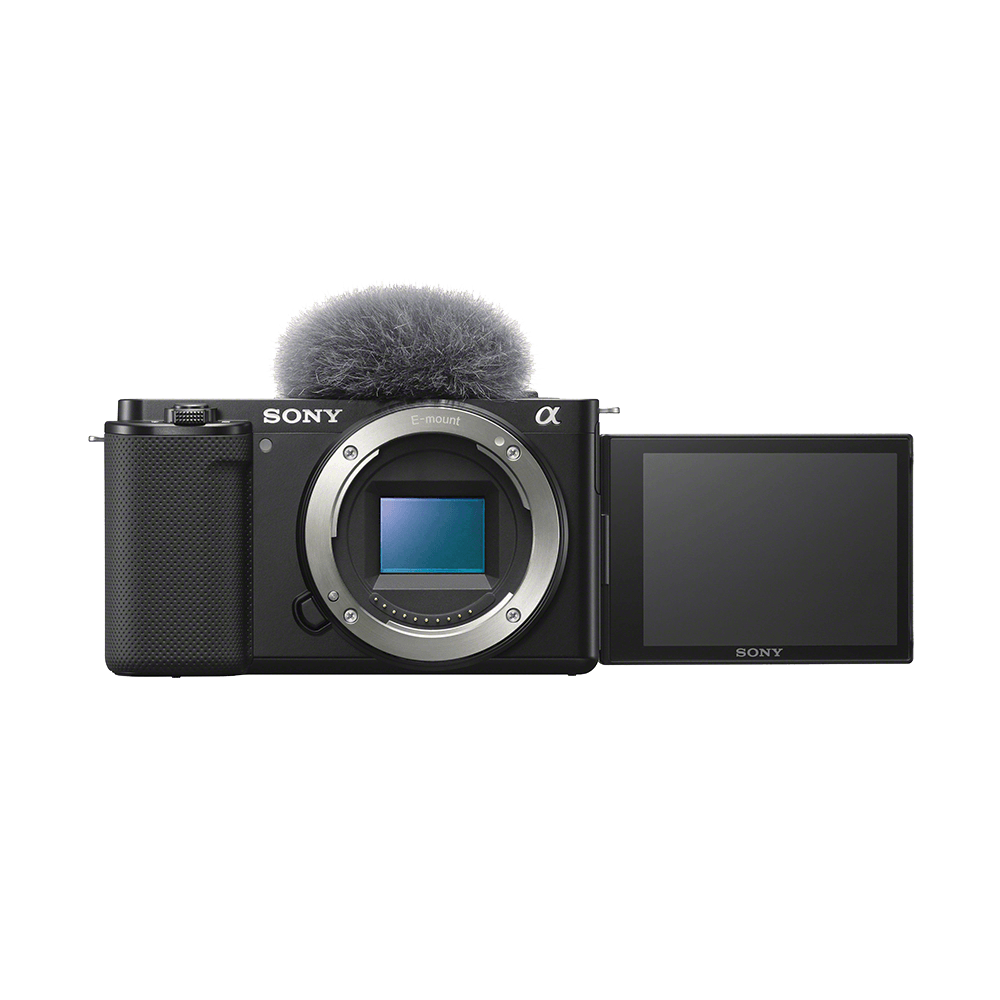 The larger sensor makes a difference in quality
The ZV-E10's impressive images are the result of the camera's large APS-C sized image sensor – the same kind found in cameras all the way up to professional cinema models. The sensor is more than ten times larger than ones you would find in a typical smartphone, so it collects far more light and more image data, in order to create beautiful images and evocative bokeh effects. [1] APS-C [2] 1-inch [3] 1/2.3~1/3.4 inch
Professional-looking bokeh at your command
The ZV-E10 makes it easy to shoot impressive images with a softly blurred background, like the kind you see in movies. The camera's large-size sensor makes this possible, allowing you to take striking shots where the subject really stands out against the background.
Impressive 4K movies
Making high-resolution 4K movies is as easy as pressing the MOVIE button, and the ZV-E10's large image sensor enables a beautiful range of colours. For maximum detail, the image sensor records 2.4x the volume of data needed for 4K, then condenses the data to produce the final recording.
Clean footage in dim lighting
Even when you're shooting in poorly lit settings, the ZV-E10 delivers beautifully detailed images with minimal noise. Once again, it's all thanks to the large size of the camera's image sensor, which maximises light collection. The result is clear, clean images even when shooting indoors with dim lighting or outdoors at night.
Key Features
Stay brightly lit wherever you go
Even when lighting conditions change abruptly, the ZV-E10 makes sure that you'll always be brightly lit. From direct sunlight and backlit angles to shadows and dimly lit interior corners, the camera detects the subject's face and automatically handles changes in brightness, performing rapid exposure adjustments to compensate.
Smooth and stable images even while walking
The ZV-E10 will help keep things smooth and steady when you're on the move. Active Mode electronic image stabilisation delivers stable video footage with minimal shake and blur during hand-held recording, and it's available even when the Product Showcase Setting is on.
Easy sped-up and slowed-down motion
The camera's Slow & Quick Motion modes record videos up to 5x slower than real time or up to 60x faster. You can record at up to 50 Mbps with full HD quality, and it's all done in-camera, so you don't need to do any editing on a PC. You can also do high-speed full HD recording at 120fps to create high-resolution slow-motion sequences in post production.
Designed for clear voice recording
Equipped with a built-in Directional 3-Capsule Mic, the ZV-E10 records voices clearly even in crowded settings. It's optimised to capture voices in front of the camera with fewer distracting ambient sounds, perfect for vlogging use.
Clear recording even outdoors
The ZV-E10 comes with a wind screen, allowing worry-free recording when shooting outside. The supplied wind screen can be easily attached to the Multi Interface (MI) Shoe to reduce noise in windy conditions.
For even higher audio quality
Unlike with conventional analog audio transmission, you'll never need to worry about cable signal interference. Just pair the ZV-E10 with any Sony microphone that supports a Digital Audio Interface via an MI Shoe for clear, low-noise, all-digital audio. Or, you can connect your favorite mic via the camera's mic jack for even better audio.
Flexible control over colour tones with S-Log3 support
If you want greater flexibility in adjusting colours during post-production, you'll appreciate the ZV-E10's support for S-Log3, the standard for maximising sensor performance in professional cameras. S-Log3 allows for a wide dynamic range, giving you the increased visual data you need for greater colour control during post-production editing on a PC.
Produce 4K HDR movies with true-to-life colours
Natural, realistic-looking colours in 4K HDR movies can be achieved without post-production or colour grading, thanks to the camera's support for recording 4K HDR (High Dynamic Range) footage using the preset HLG picture profile.
Fine-tune your transitions when you switch focus
When you switch focus from one subject to another, you'll enjoy fine-grained control over AF Transition Speed. Transition speed controls whether to perform a quick transition or a more gradual one, with seven different levels available.
Create time-lapse movies
With the ZV-E10's interval shooting mode you can create evocative time-lapse movies assembled from still shots. The shooting interval can be adjusted from 1-60 seconds between shots, with up to 9,999 shots possible. You can see an in-camera preview of what the finished movie will look like, then use Sony's Imaging Edge Desktop on a PC to put together the final footage.
Live-stream setup is easy
With a single cable, the ZV-E10 can be used as an online communication tool, taking advantage of its large sensor and built-in mic. To use the ZV-E10 as an external camera, connect it to a PC or a Sony Xperia smartphone via a USB Type-C cable connection. You can assign USB Streaming mode to a custom button for quick streaming.
Handle long shooting sessions without battery worries
When you're shooting outdoors or anywhere without a power supply, you can rely on the camera's battery to power up to 125 minutes of continuous movie shooting or up to 440 still images. The camera also supports external power through a USB Type-C connector, allowing an external mobile battery to further extend your recording time.
Switch to AC power when you need to shoot for longer durations
When you're live-streaming or just engaging in an extended indoor shoot with access to an AC power supply, you can use an AC adaptor like the AC-PW20AM (sold separately) and never have to worry about running out of battery power.
Enhanced image stabilisation and editing functions
Camera-shake metadata is recorded by the built-in gyro, allowing handheld footage to be smoothed out and stabilised in post-production. Using Sony's Catalyst Browse / Catalyst Prepare desktop application you can easily balance automated shake-compensation and image-trimming levels. Catalyst can also make effective use of recorded camera-rotation data.
Imaging Edge Desktop<sup>TM</sup>
Elevate your moviemaking and still photography with Imaging Edge Desktop applications. Use "Remote" to control and monitor shooting live on your PC screen; "Viewer" to quickly preview, rate, and select photos from large image libraries; and "Edit" to develop RAW data into high-quality photos for delivery. Get the best from Sony RAW files, and manage your productions more efficiently.
Support
Warranty
When you purchase a Sony product, you have the peace of mind in knowing that your product is covered by Sony's Standard Warranty provided by Sony Australia Limited (for Australian purchases) and Sony New Zealand Limited (for New Zealand purchases)
This product is searchable
Search for this product by using any of the following codes or IDs

ZVE10B
4548736128712
WW356015
ZV-E10/BQ AP2