1000X True Wireless Noise Cancelling Headphones (Black)
Features
Truly wireless style compact noise cancelling headphones with Smart Listening by Smart Auto-settings.
Digital Noise Cancelling technology
Truly wireless design and high quality audio with BLUETOOTH and LDAC technology
Smart listening experience by Adaptive Sound Control
Awards
What Hi-Fi? 5 stars award
Best wireless in-ear headphones
"The best product we've had the pleasure of testing so far."
Sony WF-1000X, What Hi-Fi?, September 2017
Read the full review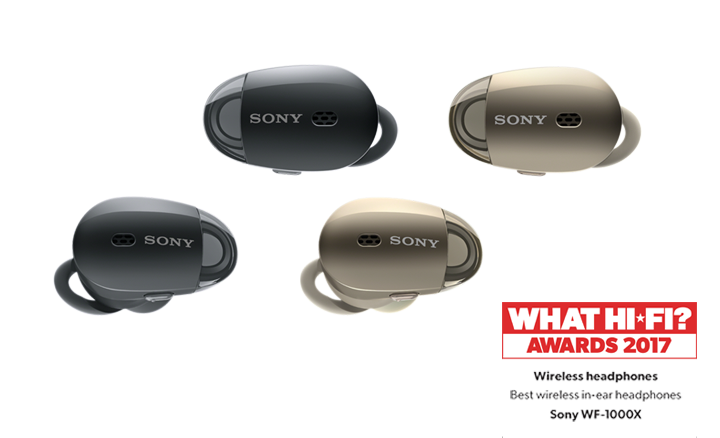 Specifications
General Features
Magnet

Neodymium

Headphone Type

Closed Dynamic

Driver Unit

6mm (Dome Type)
Size and Weight
Weight

Approx. 6.8g (Headset) / Approx. 70g (Charging case)

Width (cm)

6.00

Height (cm)

15.00

Weight (kg)

0.27

Carton Width (cm)

27.00

Carton Height (cm)

17.00

Carton Weight (kg)

3.16
This product is searchable
Search for this product by using any of the following codes or IDs


WF1000XB
4548736058552
WF-1000X
WF-1000X/BM E
| | |
| --- | --- |
| 1. | Prices are in NZD and inclusive of GST. |
| 2. | Current price as displayed for purchase at Sony Store, online (store.sony.co.nz). Pricing may vary in-store at Sony Store, Auckland & Christchurch. |
| 3. | Prices are subject to change without prior notice and may vary for the same product with different colours. |
| 4. | Colours and features of the product shown may differ by model and country. Check store.sony.co.nz for New Zealand availability. |
| 5. | Features and specifications are subject to change without prior notice. |
| 6. | Services availability depends on region. A part or whole of software/services installed into or accessible through the product may be changed, discontinued, removed, suspended or terminated without notice. |
| 7. | Actual colour and dimension may differ from the images shown. Actual colour and dimension may vary from screen image. |