Premium Headphone Amplifier with D.A. Hybrid Amplifier Circuit
Details
https://store.sony.co.nz/headphones-amplifiers/TAZH1ES.html
Product Actions
Features
The TA-ZH1ES is the Signature Series premium headphone amplifier, designed to achieve a higher level of sound quality through headphone listening.
D.A. Hybrid Amplifier Circuit
FBW Chassis with extracted aluminium material
Variety of balanced headphone connections
Key Features
Superior digital amplification
Our non-feedback S-Master technology maintains the purity of dynamic, straight digital sound. Our new D.A. Hybrid Amplifier Circuit takes this one step further, enhancing its precision and sound quality with an analog feed-forward amp. The analog amplifier corrects the errors caused by switching amplification.
Optimal signal correction
S-Master amplifies music signals digitally without signal loss. High impedance headphones require high power but this can create a difference between the actual and ideal signal. The analog amplifier can correct these signal deficiencies for a cleaner, more natural sound.
Preserving the feeling
Capturing every note and nuance with DSEE HX. Experience your music as the artist intended, in near High-Resolution Audio quality. Our new DSEE HX upscaling technology features four additional modes to the standard: female vocal, male vocal, percussions and strings, for optimal sound reproduction.
Convert any source to DSD
Personalising sound with the new DSD Remastering Engine. Offering double the conversion accuracy of previous models, the new DSD Remastering Engine let you convert all PCM music sources into DSD 11.2MHz. The technology utilises FPGA (Field Programmable Gate Array) to convert any signal into the DSD sound format.
Advanced FPGA processing for uncompromised music reproduction
To maximise the potential of the new D.A. Hybrid Amplifier Circuit, our engineers developed the amplifier using an advanced FPGA processor. This let them fully customise the technology and develop something truly unique.
Familiar analog-like sound
Our DC Phase Linearizer works to effectively replicate a wide variety of sonic signatures. It applies digital-signal processing to match the phase characteristics of various types of analog amplifier to deliver a more analog-like sound.
Eliminating resonance with Acoustically Tuned Panel
The headphone amplifier's top panel is made from a combination of steel and aluminium. These materials each have their own resonance frequency, which when used in combination, suppress each other. The result is the effective elimination of unnecessary resonance.
Ideal sound isolation with FBW Chassis
The TA-ZH1ES features a rigid FBW Chassis, which has been designed to isolate the circuit board from vibration. By minimising vibration and preventing lateral movement, noise is reduced for a cleaner, purer sound. The newly added wall structure is made from a large aluminium block for high rigidity.
Rigid and durable
The TA-ZH1ES features an innovative chassis design. The structure of the baseplate supporting the 'FBW' chassis has two layers for enhanced rigidity and a low centre of gravity. This added protection and durability enhances sound quality.
Input connections
The amp features several terminals to support a variety of input devices, including Walkman, TVs and Playstation consoles.
Discover the TA-ZH1ES
The TA-ZH1ES has been precision-crafted from the outside in, to maximise audio quality.
Supported sound formats

Enjoy up to PCM 32 bit/768kHz and DSD22.4 MHz sound formats.

Φ4.4mm balanced connection jack

Φ4.4mm single balanced jack is new standard for headphone balance connection. Its clear channel separation offers accurate reproduction and wide sound space.
Specifications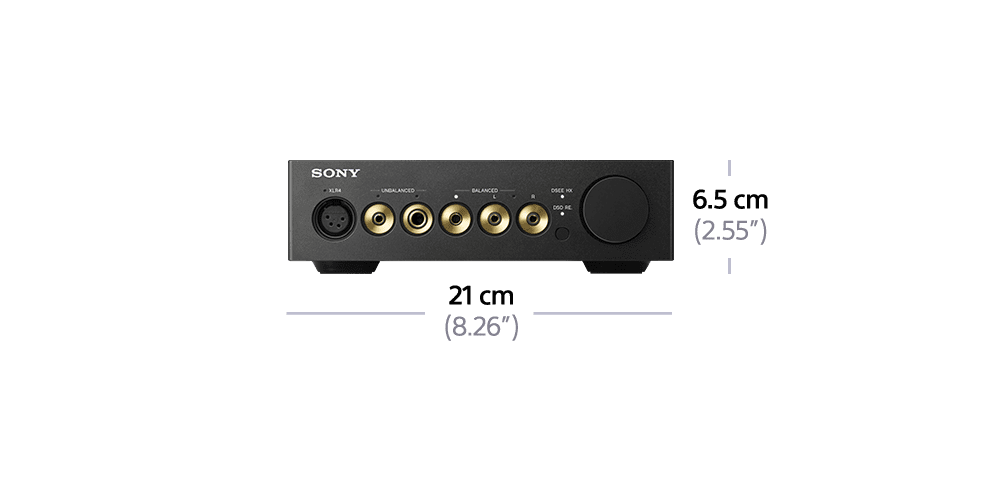 General Features
Music playback software supported

Hi-Res Audio Player / Media Go
Audio
D.C. Phase Linearizer

Yes

DSEE HX

Yes (Upscale to PCM 384kHz / 32bit)

DSD Remastering Engine

Yes (Convert to DSD 11.2MHz)

Left/right balance adjustment

Yes

8x over sampling

Yes

DSEE HX Mode

Standard / Female Vocal / Male Vocal / Percussion / Strings
This product is searchable
Search for this product by using any of the following codes or IDs


TAZH1ES
4548736034242
TA-ZH1ES
TA-ZH1ES//M CEL