Walkman with High-Resolution Audio
Crafted to deliver exceptional sound
Every element of the NW-ZX300 has been engineered for master quality sound. Enjoy music exactly as the artist intended, anywhere you choose.
Aluminium milled frame resists noise
A rigid aluminium milled frame provides strong resistance to electrical noise for clear, stable sound.
Features
11.2MHz DSD native compatible Hi-Res Audio Walkman with premium components and Matte Glass touch screen
High-Resolution Audio compatible
11.2MHz DSD native, PCM 384kHz/32bit playback
⌀4.4mm Balanced Standard Plug
Key Features
USB DAC Function for higher quality music
Experience the great sound quality of the NW-ZX300 as a USB DAC (Digital-Analogue Converter) for your PC or Mac computer. When connected and activated, using the supplied USB cable, the NW-ZX300 replaces your computer's regular sound processing with its own, highly-tuned hardware. Always enjoy premium sound quality, whether you're at home or the office, a coffee shop or commuting.
MQA support for lossless-quality music
MQA (Master Quality Authenticated) is a new audio format designed to compress large, studio-quality files without audible loss, for a range of different devices. Already supported by a growing number of premium online music retailers, it's yet another way to enjoy High-Resolution Audio on your NW-ZX300.
Matte glass screen
A touch-sensitive matte glass screen allows smooth fingertip control with less fingerprints.
Intuitive side key
Simple, near instinctive side-key control enables you to control your music with ease.
Improved battery life for longer listening
Never run out of power when you're on the move. The NW-ZX300 holds enough charge for up to 30 hours of 128 kbps MP3 playback, or up to 26 hours of 96kHz/32bit FLAC High-Resolution Audio playback, so you don't have to worry about finding a charger when you're out and about.
Expandable storage for endless playlists
In addition to the integrated 64GB memory, there's also room for a microSD card, so you can take even the biggest music collections on the go.
Technically superior in every way
Feel every note and nuance with High-Resolution Audio. Class-leading sound technologies take your listening experience into a whole new realm of realism and purity.
11.2 MHz DSD Native / PCM 384kHz

Supreme quality with 11.2MHz DSD native using balanced headphones and PCM 384KHz/32-bit support.

S-Master HX™

The S-Master HX™ digital amp reduces distortion and noise across a wide range of frequencies for rich, full-bodied sound.

DSEE HX™

Hear what you've been missing. DSEE HX™ upscales your existing music to near high-resolution quality.
Specifications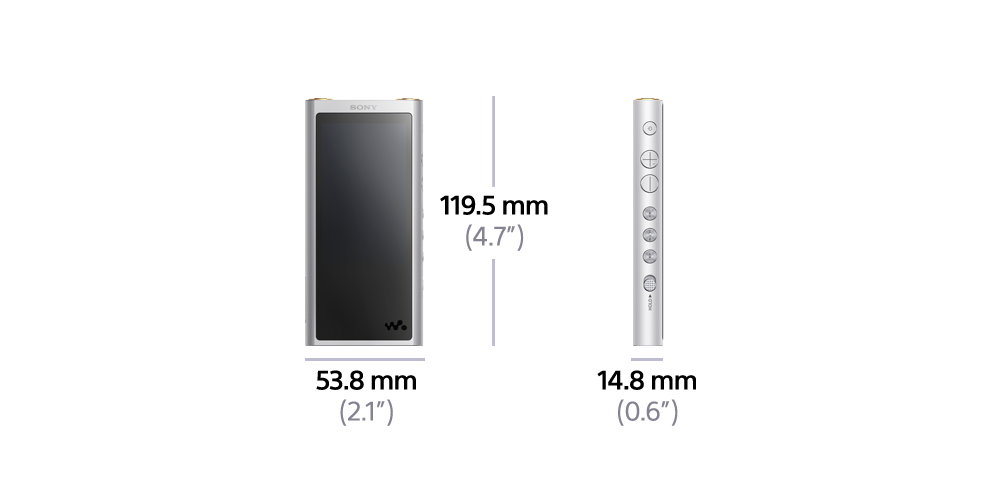 Software
System Requirements

Windows 10, Windows 8.1, Windows 7 macOSv10.8-10.12

Operating System

Sony original OS
Size and Weight
Width (cm)

9.20

Height (cm)

15.70

Weight (kg)

0.36

Carton Width (cm)

16.50

Carton Height (cm)

11.00

Carton Weight (kg)

2.02
This product is searchable
Search for this product by using any of the following codes or IDs


NWZX300B
4548736058866
NW-ZX300
NW-ZX300/BM E