V02 High Power Audio System with BLUETOOTH Technology
Details
https://store.sony.co.nz/archived-hifi-system/MHCV02.html
Product Actions
Features
High power audio system with spread sound and long distance bass sound, Speaker Light and smartphone connectivity.
Long distance bass sound with JET BASS BOOSTER
Blue speaker light
Karaoke and guitar inputs
Key Features
Fill your party space with sound
Bring the festival sound to birthdays, special occasions and spur of the moment gatherings. Long distance bass sound delivered by the JET BASS BOOSTER allows your partygoers to enjoy even more powerful music.
Angled tweeters
Fill the room with party sound thanks to angled tweeter units that spread sound wider.
Multi device connection lets more people control the music
You and your friends can pair up to three smartphones with the MHC-V02 simultaneously using Bluetooth technology. You'll all be able to play tracks from all your music libraries, giving you even more choice.
USB port lets you plug in, play and charge
Play tracks stored on a USB device, or make your own custom playlists with direct CD-to-USB recording. Simply connect your device to the PLAY / REC port and you are set to power up your next party with all your favourite tracks. Or use the USB port to charge your smartphone too while you're partying.
Feel the beat even at long distances with JET BASS BOOSTER
A tapered bass reflex duct structure concentrates the airflow of the bass sound, so you can hear it clearly and feel it physically, wherever you are in the crowd and over long distances.
Build energy with speaker lighting
Pump up the atmosphere with club-like LED speaker illumination. The blue light pulses in patterns, synchronising with the rhythm of the beat.
Voice Control via Fiestable
Change track, turn on and flash the light just by speaking. Simply select the Voice Control via the Fiestable app and speak your command - the light and sounds will obey.
Enhance the experience with Party Light via Fiestable
Just tap Party Light via Fiestable app on your smartphone and the phone's display starts to mirror the sound system's lighting effects, flashing and changing colour in time with the music. There's no limit to the number of smartphones that can join in, which makes for a unique shared experience.
Be the party king
Share your party status on social media with just one click from the Fiestable app. Then, turn up the music and climb the party people ranks to become the certified Party King.
Run everything from the dancefloor
The Sony | Music Center app lets you control music and sound settings right from your phone. Plus the Fiestable app lets you activate DJ and karaoke modes. Make changes with a flick of your wrist, thanks to intuitive motion control.
Tripod compatible
Using a built-in mounting hole, the MHC-VO2 can be set on a tripod speaker stand for an elevated position, so sound can be projected even more effectively to even more people - whether they're sitting or standing.
NFC One-touch for instant connectivity
Near Field Communication (NFC) and Bluetooth technology remove the need for wired connections and complex set-up sequences. Simply touch your NFC-enabled device to the headphones for a quick, seamless connection, then start streaming your music collection. No NFC? No problem. Connect via Bluetooth and you're ready to go.
Enjoy high-quality Bluetooth streaming with LDAC
LDAC sends approximately three times more data (at the maximum 990 kbps transfer rate) than conventional Bluetooth audio for a superior wireless listening experience.
Handle for easy carrying
Whenever you want to move the MHC-V02, just hold the convenient handle, lift and take it to wherever you want to party.
Boost the party with extra speakers
Enjoy more powerful sound by connecting multiple home audio systems via Bluetooth connection. Connect up to 50 compatible home audio systems and synchronise the music and lighting.
Specifications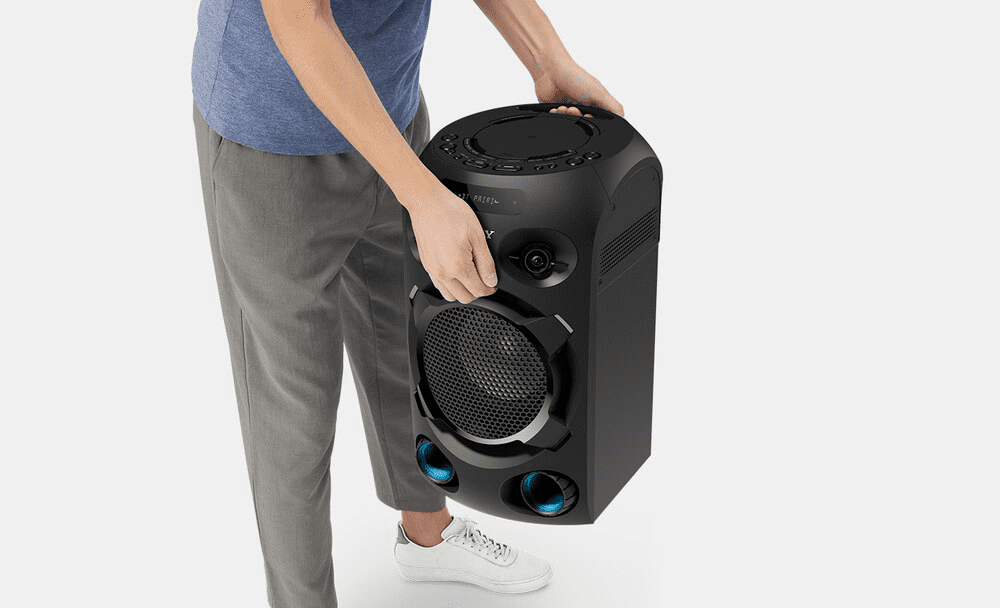 This product is searchable
Search for this product by using any of the following codes or IDs


MHCV02
4548736090774
MHC-V02
MHC-V02//C AU1